When you learn to trust your intuition, by default you learn to trust yourself. To be your own guru. Your own oracle…

— Darla Antoine
Learning to trust yourself is the goal of many a magical babe.
We all want to be in tune with the voice of our little sage, our higher self, our inner knowing.
In fact, "how do I get in touch with — and learn to trust — my intuition?" is one of the questions I get asked most frequently.
My answer always boils down to these three words:
Pay attention daily.
Listen to yourself. Keep a record. Review your notes.
You want to do this because no matter how significant the moment seems, no matter how you're convinced that you will never, ever forget a single detail of this miracle, it will slip away.
You need that record so you can look back and make sense of the pattern over time.
You can see how your divinations, hunches, and intuitive hits panned out.
Living a magical life is an art and a science, and you better believe that artists and scientists alike keep journals, take notes, and record their observations.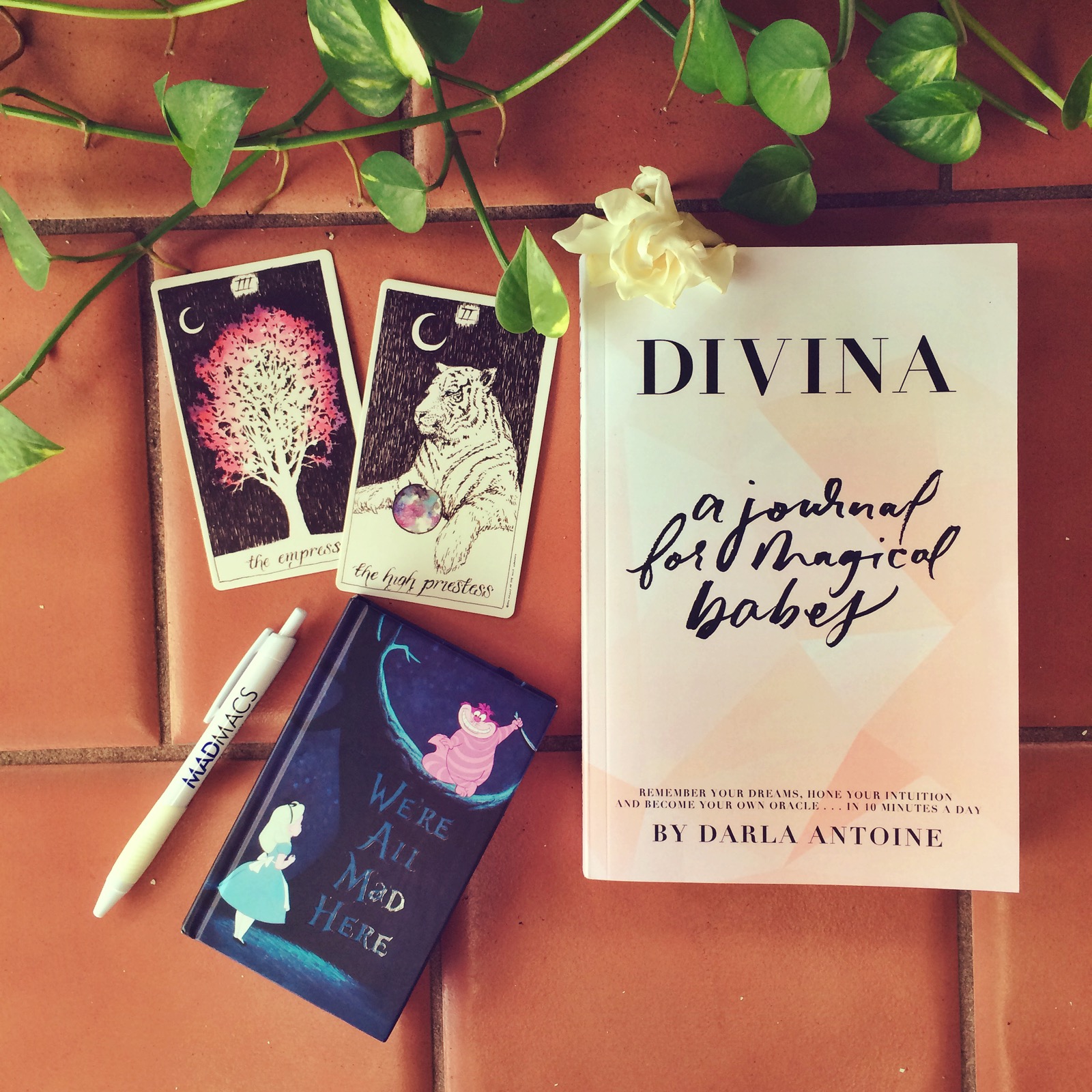 Recently, I had the extreme good fortune to conduct a Skype reading with sweet creature and mega-magical babe, Darla Antoine.
When Darla told me about DIVINA, her daily journal for magical babes, I practically peed my fucking pants.
PEE PANTS I SAY
A gorgeously simple, aesthetically pleasing design — with space for notes on dreams, daily magic, and menstruation? PLUS info on the daily lunar sign and phase?!
SIGN ME UP, BUTTTERCUP
When Darla asked if I'd be interested in doing a DIVINA giveaway for you, my stalwart readers, you better believe I jumped on that business like a jackrabbit off a hot plate.
CHECK THIS GOODNESS OUT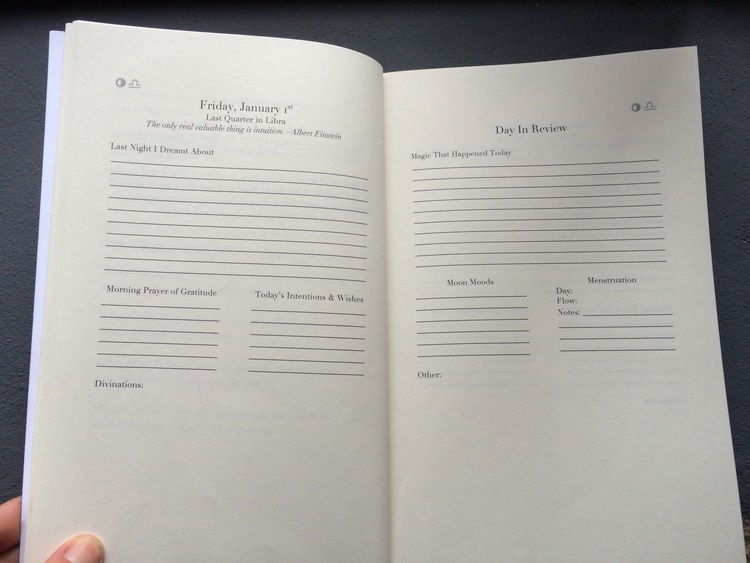 LOOK AT THIS. It's fresh, clean, and clear — unlike many magical journals I've tried, which look like they crawled out of the bog whence horrifically cheesy New Age-y art must come.
You can see that each day gets a full page spread, with sections to record your dreams from last night, a morning prayer of gratitude, today's intentions and wishes, divinations, daily magic, moon moods, menstrual flow, and other observations.
(Personally, I have about 5-6 pages of dreams each night, so I keep a separate dream journal to record the full flow. I would use the Last Night I Dreamed About section to highlight dream omens, interpretations, and emotional impressions.)
SUPER HELPFUL
The intention is for you to spend a few minutes with the lefthand side in the morning and the righthand side in the evening.
As a lunar Gemini who is ALL OVER THE PLACE, I am really looking forward to cultivating this simple bookend journaling ritual to my day.
It's not too complicated, ornate, or trite. There's a sweet little moon graphic, daily quotation, and astrobabble-free note on the moon phase and zodiac sign.
In fact, there is a super simple section at the beginning of the journal on the signs of the zodiac and the astrological houses, should you be interested in such a reference.
HALLELUJAH
Some of the things this journal can help you do:
Remember your dreams and tap into their higher wisdom
Create a daily practice to hone your intuitive skills
Recognize (and act on!) your intuition when it speaks to you
Notice and attract more magic into your life (and by magic I mean synchronicity, coincidences, and happy surprises)
Delve into the world of divination and apply it to your daily life
Track the phases of the moon as it moves through the zodiac and discover how it influences your mood and behaviors — so you can plan accordingly
Chart your menstrual cycle and begin to make connections between your monthly rhythms, the movement of the moon, your dreams and your intuition (are you more intuitive when you're ovulating or menstruating?)
All, as Darla says, in about 10 minutes a day.
SWEET DEAL MY FRIEND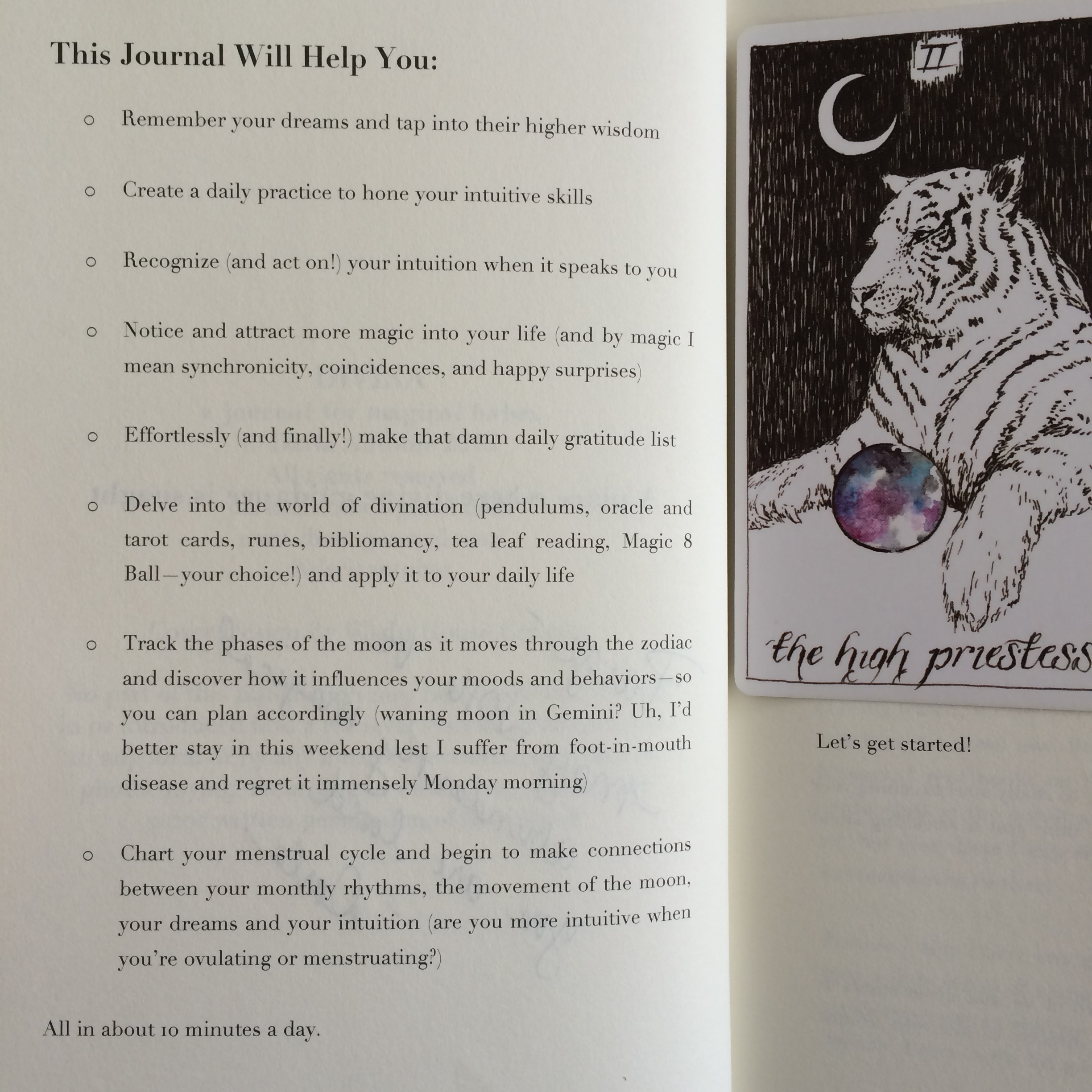 And the best part? Darla is graciously giving away TWO copies of DIVINA vol. 1 to you, my magical readers.
HOW EXCITING
By the way — "vol. 1" refers to the fact that the journal covers January 1 to June 30, 2016.
Which is a really good thing, since if it included the whole year it would be A HUGE ASS TOME, my friends.
If you like, you can read more about the journal here on its lovely site.
Want to win your very own copy of DIVINA 2016 vol. 1?
Since it is the Sagittarius New Moon — perfect for setting your sights on goals for the new year — here is how to enter:
Comment on this blog post with one dream you have for 2016.
I'll get the ball rolling:
One dream I have for 2016 is to complete a very special, personal book project that's been percolating in the background of my mind for some time — the story of how I was called to work with Holy Death.
How about you, my sweet chickadees? What is one dream you have for yourself in 2016?
It can be a huge scary reach-for-the-stars dream, or it can be a simple, everyday sort of dream. There is no wrong answer.
And if you're interested in getting a head start on making 2016 the most magical year ever, my annual New Year Readings are up in the shop! Book yours today.
Share your dream with me in the comments below for your chance to win an autographed copy of DIVINA 2016 vol. 1.
Contest will end at 12 midnight EST on Sunday, December 13. Winners will be announced Monday the 14th.
Can't wait to hear all about your delicious dreams!
HAPPY NEW MOON
xoxo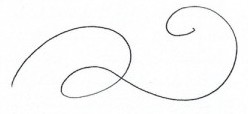 a big thank you to Darla Antoine for making this possible. full disclosure: I was gifted my own copy of DIVINA vol. 1 but receive no other compensation for hosting this giveaway.