Hot baby fish feet! The world is full of magic!
We know that invisible and mysterious threads of connection link us to the world and each other, and magic is what happens when we tap into those connections.
I love seeing tangible examples of what happens when we heed the call to step outside the worn paths of prescribed normalcy and expectation.
Recently I had the pleasure of chatting with kindred spirit Juanita Benedicto, co-creator of the upcoming Faunabelle Tarot, who experienced just such a calling and followed its twists and turns and leaps and bounds to unexpected results: the creation of this "compassionate and kind tarot deck for children and the young at heart."
"A tarot practice develops creativity, empathy and greater understanding of self and others. "

Juanita Benedicto, Faunabelle Tarot
YES yes YES SPEAK IT ! Juanita described the Faunabelle Tarot to me as a "Trojan horse of kindness that impacts anyone who's near the child and the deck."
Talk about MY! JAM!
These wizardly ears perked right up at word of a Tarot deck designed for children (and the young at heart). When I first began seriously studying Tarot, I was working as a babysitter in San Francisco. I'd always have my cards with me. Sometimes the older of the two kids would request that I shuffle my deck and lay all the cards out on the table; then we'd go through the cards and describe the narrative that appeared.
Kids love stories and asking questions and the magic of uncovering and understanding themselves and the world around them!
HOT DOG I'm delighted to see a tarot deck designed with children in mind — and that, like Sesame Street, is seeded with more advanced references.
Take Faunabelle's Hermit for example: in a nod to the earthiness of the card, which is astrologically associated with the mutable Earth sign of Virgo, Juanita and Nicola have placed the Hermit Raven in the woods alongside the Three Sisters: corn, squash, and beans, that holy trifecta of plant cultivation in many indigenous cultures*.
I love the way astrological symbols have been tucked into the cards' compositions: the symbol for Virgo can be found hidden on a mushroom cap in the Hermit Raven's forest!
You can see previews of the other cards at Faunabelle Tarot's gorgeously concise and well-organized Kickstarter page.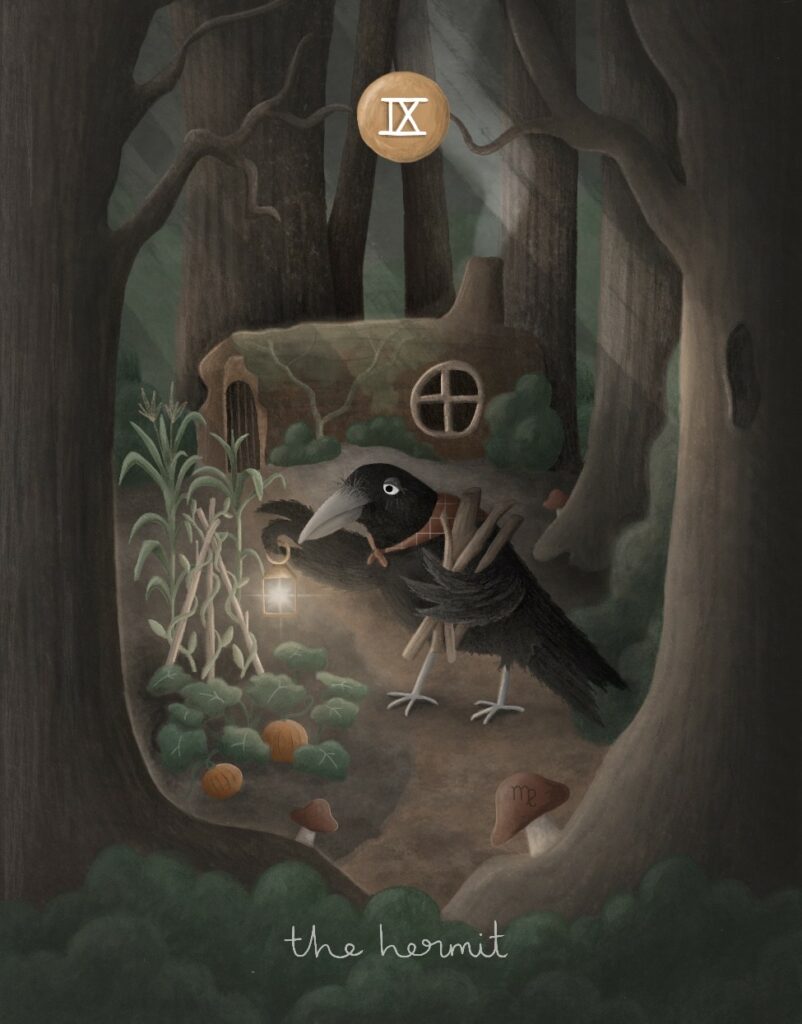 My favorite part of Faunabelle's Kickstarter is the section on sample questions children can ask during a Tarot reading:
"Questions a young reader might ask FAUNABELLE include:
How can I get along better with my sister/brother?
What reminder should I take with me today?
How can I tell my friend something that's hard to share?"
But of course, anyone who's spent any time with children knows how good they are at asking questions. My personal favorite question a child has ever asked me is, "When does God die?" (I gave him the Alan Watts "God is the universe playing hide and seek with itself over and over" answer and he nodded and proceeded to ask me about the plot of Star Wars: The Phantom Menance).
Children are smarter, more sensitive, and more capable than they usually get credit for. And they are SO GOOD at asking questions! My fellow readers know that the secret to good tarot readings is good question-asking.
I'M REALLY CURIOUS: do you read Tarot — or some other form of divination — with children? what kinds of questions do you ask? what curious insights arise? I'd love to hear your stories of reading with kids!
---
LINKS & LOVE
The Faunabelle Tarot Kickstarter Page
Juanita and Nicola's website: Star, Stone & Fable
*Read more: "Meet the Three Sisters Who Sustain Native America" by Andi Murphy
---
xoxo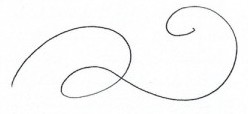 Full disclosureclaimer: if you make a pledge using my Kickbooster link, 5% of the pledge comes back to me. I'll be putting any such funds toward the creation of my own forthcoming Tarot deck! And the decks start coming and they don't stop coming and they don't stop coming and they don't stop