Let's conjure a little joy this summer!!
IT'S YOU AND ME!
And my Pokémon card collection. Yeah, you heard me right — we're doing DELICIOUS DIVINATION with POKÉMON CARDS!
If you've been around my world for a while, you know I'm a firm believer in the power of unique divination tools to facilitate interesting and insightful readings.
THE POWER OF WHIMSY!!
You Choose! Two Kinds of Readings
| | |
| --- | --- |
| 1. The Email Reading! These cost $45. | 2. The Zoom Reading! These cost $75 and are 30 minutes long. |
Each comes with: A photo of your cards, of course! Example of a spread we might use:
The active situation at hand,
The challenges you're facing,
Advice for how best to navigate those challenges,
A preview of the road ahead should you take that advice,
and the "big-picture" look of the whole shebang.
You can read more about the cards down below.
Q: Do you have to know anything about Pokémon?
A: No, you do NOT need to know anything about Pokémon in order to receive a clear and insightful reading! As long as you're down for some whimsy and the joyful dance that is intuitive interpretation of image and symbolism, we're gravy, baby.
To Book Your Pokémon Reading:
Click the appropriate button below to check out via PayPal or with a credit/debit card.
Very important: if your best contact email is different from the one associated with your PayPal account, please put the correct contact email in the Notes to Seller section or email me directly at paigezaferiou@gmail.com.
Once your reading is booked, I will email you within 48 business hours to get the ball rolling. You'll be able to share as much or little as you like about the situation you wish our reading to focus on before we get started.
---
About the Cards
The cards I'm reading with are from the Pokémon card collection that I amassed as a whippersnapper in '98 and '99, and thus feature only the original 151 friends.
From these cards, I created several decks that you will be able to choose from.
It felt very important to the integrity of this offering that each of the decks is also a fully functional Trading Card Game deck. And they are! I know this because I played with them thoroughly after putting them together, hehehe.
The decks are:
Electric and Psychic – Pikachus, Abras, and Mewtwo, oh my!
Grass and Fire – Featuring foxy Vulpix and my fave, Bulba-bulba-bulbasaur!
Water and Grass – Squirtles and Staryus team up with Butterfree and friends!
Psychic and Poison-Grass (pictured below)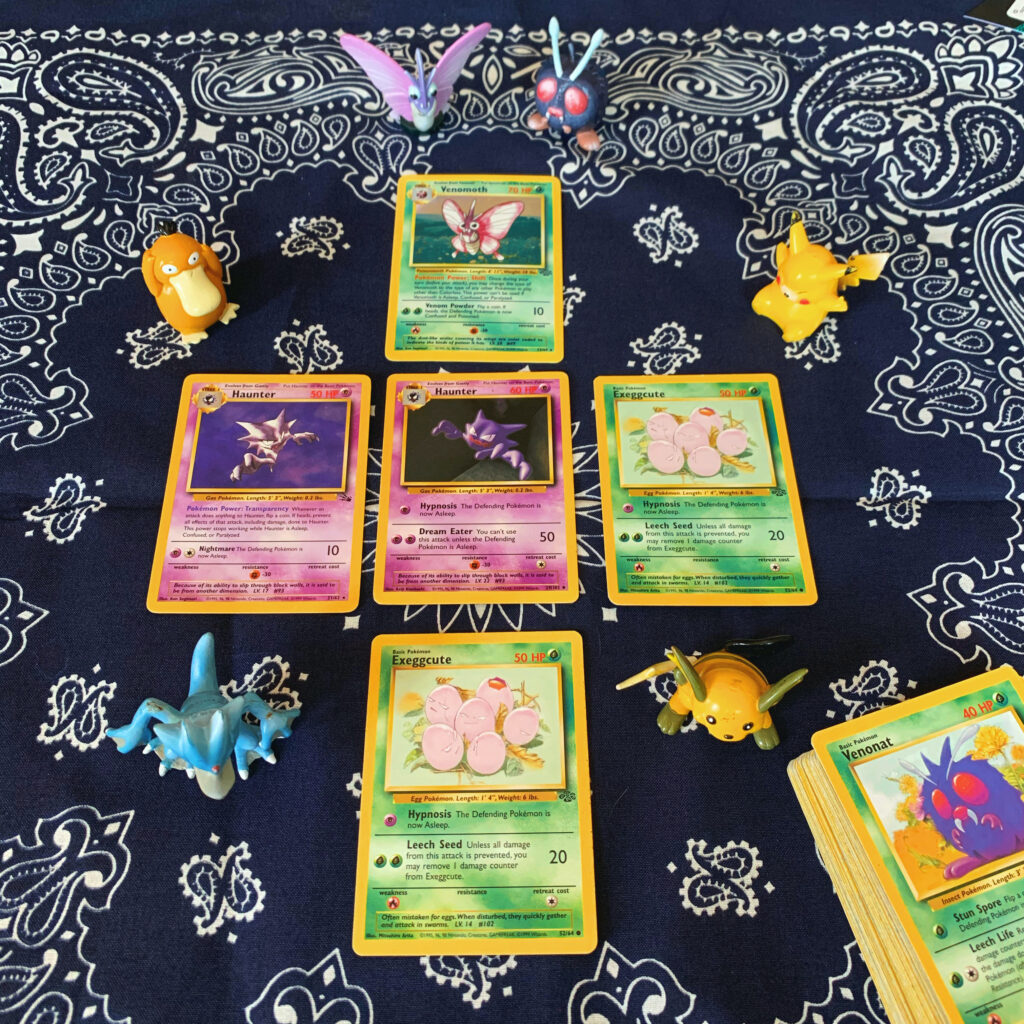 ---
Disclaimer: Pokémon is a registered trademark of Nintendo, who I am in no way affiliated with. These sessions are offered for entertainment only and we can provide no guarantees. All purchases are final.